Joyce arrived in Thunder Bay September of 2013 with her husband Ken. Originally from Northern Alberta, where together they raised their three children, Ken and Joyce moved to Toronto in 2010 so that Joyce could attend Knox College at the University of Toronto. After graduating with her M.Div., Joyce was called to St. Andrew's.
Prior to her call to ministry Joyce spent nineteen years teaching piano and music in her private home studio in Spirit River, AB. Also in Alberta, Joyce was a victim's assistance volunteer and commissionaire with the RCMP, a community volunteer in the schools and coordinator of the local trade fair.  Joyce enjoys singing and was part of the regionally acclaimed vocal quartet, Prairie Winds.
Joyce is pleased to call Thunder Bay home. She loves meeting the people in the community and working with the congregation of St. Andrew's Presbyterian Church as they seek together to do the work of the church in this place, reaching out to the community and one another as well as working to restore the magnificent heritage building.
Jamie Gerow, Choir Director

Connor Curran, Organist
Diane Berube, Bookkeeper
Chris Chunick, Office Administrator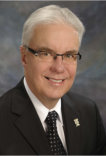 John Mason, Clerk of Session
John Mason grew up in St Andrew's Presbyterian Church, and has been an elder since 1987. John chairs the Mission and Outreach Committee, as well as coordinates ushers. Parents Edith and Ken Mason have been strong positive influences throughout his life.
John is a Registered Professional Geoscientist in the Province of Ontario and holds an Honours Bachelor of Science degree in geology from Lakehead University.
In mid 2011, John joined the Thunder Bay Community Economic Development Commission as Project Manager, Mining Services, with a mandate to grow the exploration and mining sector in Thunder Bay and region as well to more fully to capitalize on the service and supply businesses that feed into the mineral sector.
On June 1st, 2013 John Mason was awarded an Honourary Doctorate in Science from Lakehead University. In April of 2014 John received a Lifetime Achievement Award from the Northwestern Ontario Prospectors Association.