On this last Sunday in the Christian calendar before we move into the first Sunday of Advent next week, take a while to watch and listen to the worship service. You can also follow along and participate with the printed service.
Welcome Back Sunday!

– September 12

Good news! We are reopening this Sunday September 12th for worship in the sanctuary! It's been a very long time since we last met on December 2oth a year ago, and what a year it has been with struggles to stay healthy, stay positive and figure out Zoom to stay in contact with family friends and community.

Be sure to check out the St. Andrew's calendar for upcoming events.

Online worship service continues! Online services and the accompanying print editions will be posted on this website as well as St. Andrew's Facebook page as they become available.

For printed services, click here.
View the Sunday Remix, click here.
St. Andrew's during COVID-19 – Keeping up-to-date
September 12, 2021
St. Andrew's reopens for in person worship. All COVID-19 health and safety protocols are in place to help ensure safety for all: screening, masking, distancing and supervised traffic flow. Assistance and guidance is always on hand to provide a comfortable and secure setting.
January 14, 2021
Due to the evolving regulations mandated by the Ontario government, worship services at St. Andrew's Presbyterian Church will remain suspended indefinitely. When we can safely gather once again, announcements will be made on this website and the St. Andrew's Facebook page.
December 23, 2020
In-person worship has been suspended immediately up to and including January 24, 2021. See above for details.
September 13, 2020
In-person worship services return to St. Andrew's beginning Sunday September 13.  Safety Guidelines for Re-opening will explain what you need to know about this process.
June 12, 2020
The Ontario Provincial Government announced on Monday June 8th that restrictions preventing people from gathering for worship since March 22nd would be lifted as of Friday June 12th.
The Session of St. Andrew's has decided to take an approach to opening that would exercise and abundance of caution. We plan to delay in person worship until a yet to be determined date in September. In the meantime the Parish Health Ministry Team will take the lead in planning for our re-opening, making sure all the necessary COVID-19 health and safety protocols are in place so that people can attend as safely as possible. Online services will continue throughout the summer and even once the church is re-opened. Click here for details.
St. Andrew's Response to the COVID-19 Pandemic
In light of COVID-19 the church building is closed, meaning all Sunday worship services and church activities are suspended until further notice. There is no staff at the church to take your call, retrieve phone messages, or open the door. If you have questions, concerns, or would like to speak with Rev. Joyce, please call her at 807-632-8348. You can stay up to date with St. Andrew's by returning to this website, checking out the weekly newsletter, and services.  You can also follow us on St. Andrew's Facebook page.
For more information regarding the above or other inquiries, Rev. Joyce and the Office Administrator may also be contacted by email.
May God be with us as  we strive to live as grace-filled people in the midst of extraordinary circumstances.
For special editions of The St. Andrew's News as they become available, click here.
Donations
Many have asked about how they can financially support St. Andrew's in a time when we are not able to worship together. To make a donation via CanadaHelps click here. You may also drop donations in the mailbox or send in donations. The mail is being checked regularly. You may prefer to request a PreAuthorized Remittance form that allows for donations as an automatic withdrawal from your bank account. St. Andrew's can also accept e-transfers to the following email address: offerings.standrewspres@tbaytel.net.
Check this website and St. Andrew's Facebook page for updates.
Welcome to St. Andrew's Presbyterian Church, located in the centre of Thunder Bay.
Come experience the love of God in a vibrant, inclusive and open community of faith. There's a place for you at St. Andrew's!

Sunday Worship
Sunday worship begins at 11:00 a.m. The kids can attend church school  September through June. During the summer months children enjoy quiet activities in a play space provided in the sanctuary.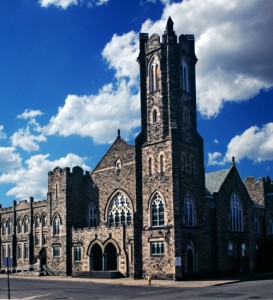 Visiting?
Find us at 207 S. Brodie St., right across from City Hall. Sunday parking is free in the church lot, other lots adjoining the church and on the street.
The friendly folks in the church office would be happy to help with your questions, just pick up the phone and call 622-4273, or come by this Sunday. Click here for other tips that will help make your visit more comfortable.
All the News
For news and coming events, see the Calendar and St. Andrew's News.