St. Andrew's offers a wide selection of venues for a variety of events.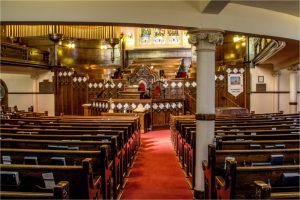 The beautiful sanctuary boasts "unbelievable" acoustics, making it an excellent choice for concerts and recitals. The halls and other rooms are frequent locations for receptions and meetings.
To enquire about policies, approval process, timelines and fees, please contact the church office.
All our halls and rental spaces in the church are accessible by elevator. We also have an assortment of folding tables and chairs that can be used when renting any space.
Grant Hall is located on the third floor of St. Andrew's.
Rowand Hall is located on the first floor of St. Andrew's, which is technically the basement with how they numbered our floors. Rowand Hall is slightly longer than Grant Hall, only with wider columns. There is also a kitchen at one end of the hall and two bathrooms located at either end.